Hezbollah Secretary General Sayyed Hasan Nasrallah delivered a televised speech on Al-Quds International Day
Hezbollah Secretary General Sayyed Hasan Nasrallah delivered a televised speech on Al-Quds International Day in which he noted that while some Arab regimes bluntly make efforts to serve the Zionist enemy, Imam Khomeini announced Al-Quds Day to be commemorated yearly on the last Friday of the Holy Month of Ramadan to preserve the Palestinian cause and remind Muslims fasting all around the world that Al-Quds has a duty upon them.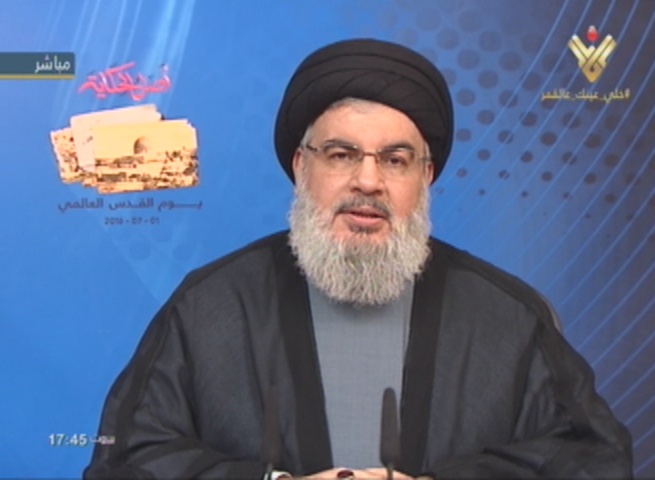 "The Right must be clearly announced on this day. Palestine is an occupied land stolen from its native people and time does not make it a property of the thief even if the entire world recognized that. Israel is an occupying entity that made all its accomplishments through terrorism. It should never be recognized and the right must return to its owners," he stated.

Sayyed Nasrallah considered that some countries that didn't want to confront Israel are free to do so, but they should not recognize it or give it legitimacy, but rather leave this issue for the coming generations for Allah will send people who are ready to remove this cancerous cell from this region.

In parallel, his eminence pointed out that "decades ago the resistance axis was formed in Lebanon and Palestine with the support of Iran and Syria, and when this axis started making achievements and reached the peak of national support around it, someone interfered in attempt to frustrate this axis and its project."

"The attempt to obstruct the resistance axis took place in two ways. The first was by dragging the entire region to war under false titles like rights, freedoms and sectarianism, in attempt to let the region forget about the Palestinian cause, and this effort is ongoing from Syria to Iraq, Yemen, Bahrain, Libya, Egypt, Pakistan, Afghanistan, and other countries. The second was by opening the door for Israel and presenting it as a friend and ally in fighting terrorism. The significant point here is that the same families that facilitated the road for Britain and the United States to establish the Israeli entity are today assisting Israel in fighting the resistance movements in order to preserve their thrones. History is repeating itself," Sayyed Nasrallah added.

As he indicated that the countries that commemorated Al-Quds International Day like Yemen, Bahrain, Syria, Iraq, Iran, and Nigeria were all suffering from the oppression of the ruling families in Saudi Arabia and Bahrain, Sayyed Nasrallah assured that "some sides are determined to go on with the wars in the region and support the Takfiri groups."

"If the financial and human efforts used in Syria and Yemen were used in Palestine instead, it would have been liberated ten times," he added, reassuring that "let all the tools and servants of America and Israel in the region keep in mind that we will not abandon Al-Quds and the Palestinian
people... neither war nor weapons, media deception or sectarian incitements could force this axis to abandon Palestine and Al-Quds or let Israel spread corruption."

In parallel, Hezbollah secretary general referred to the participation of some Arab countries in Herzliya conference, knowing that this conference discussed Israel's national security and strategic environment, highlighting on the participation of the Syrian opposition representative. As he explained that "the Israeli statements in Herzliya reflected Israel's fear from ISIL's defeat in Syria," he noted that "Israel also acknowledged in the conference that Hezbollah was a significant power that threatened the entity's security."

Underestimating Israel's threats against the resistance, Sayyed Nasrallah asked: "What's new in the Israeli statements today? Is it that they want to destroy? They have been destroying in vain for decades... Is it that they want to kill? Their entity is based on crimes... The only thing new in the Israeli speech today is that they talk too much, and the important thing today is the data that the resistance has about Israel and its points of weaknesses."

Furthermore, his eminence clarified that the relationship between the Palestinian and Lebanese resistance factions was good and that "we disagreed with some Palestinian factions on the Syrian file but there are no
disagreements on the Palestinian file." He also denied that the Iranian support to some Palestinian resistance movements was cut because of the latter's stances on Syria.

Regarding the Lebanese security file and the latest terrorist attacks on Al-Qaa village, Sayyed Nasrallah considered that these attacks were a major development and soon the side behind those suicide bombers will be exposed.

"All the information reveal that they did not come from Syria or from Al-Qaa camps, they came from Ersal barrens..." he said, indicating that "Al-Qaa is a Christian village that did not fight in Syria and does not support Hezbollah politically, so why did they attack it?"

Sayyed Nasrallah further asked: "Why did they wage an attack in Turkey a few days ago knowing that Turkey supports them and funds them?"

In this context, his eminence explained that "This is the ideology of ISIL, which is the same ideology of Al-Nusra and Al-Qaeda, which all comes from the Wahhabi ideology in Saudi Arabia... It is the ideology of Takfirism as they accuse of blasphemy everyone who disagrees with them... For them "the Month of Mercy is the month of killing", they intend to kill as much as they can before this holy month is over... This is their ideology, upon which they issue silly Fatwas and permit sons to kill their mother, father, and siblings because they disagree with them."

Furthermore, Sayyed Nasrallah assured that if it weren't for the pre-emptive war in Syria, terrorist attacks would've taken place all around Lebanon on daily bases, and the situation would've been more disastrous.

"If the pre-emptive war against terrorism was completed in the rest of the barrens and the whole area reaching the borders was cleansed while the Army took its locations there, none of this would've happened and all the
threat would have been lifted," he added, emphasizing the importance of "putting a national strategy to fight terrorism in Lebanon."

On the security situation in Lebanon, his eminence pointed out that "it was under control," and was better than the security situation in most of the third world countries. He explained that "the central commemoration of the third Al-Qadr night on Tuesday and the ceremony on Al-Quds Day that were both set to take place in Sayyed Al-Shohadaa Complex were cancelled because this place in specific was under threat and the security measures that were to be taken in the region were overwhelming for the residents of that region, this is why we decided to cancel them. However, the commemoration of the third Al-Qadr night took place in hundreds of other places."

Finally, Sayyed Nasrallah reassured that "for Hezbollah, Al-Qaa is similar to Hermel and the residents of Al-Qaa are equal to the people of Hermel and the area. We are all neighbors and family and we will not let anyone harm our people in Qaa or dislocate them."

"The Lebanese Army and security apparatuses hold this responsibility and we back them... Today, we are required to stay firm, because we are capable of defeating those Takfiris, but what is important is our cooperation, national
unity, and the presence of a responsible government... even if the government did not hold responsibility, we are ready to hold this responsibility," he added, concluding: "On Al-Quds International Day, we ask for patience, firmness, and sacrifices on the regional level so that the terrorist Takfiri wave gets defeated and the resistance axis regains its health which will restore fear in Israel over its existence."