Hezbollah Secretary General Sayyed Hasan Nasrallah advises Saudi Arabia not to be blinded by hatred and arrogance and contain the situation in the region by returning to negotiations
Hezbollah Secretary General Sayyed Hasan Nasrallah advised Saudi Arabia not to be blinded by hatred and arrogance and contain the situation in the region by returning to negotiations, warning its scheme shall be smashed and disgraced if it insisted on persistence of conflicts.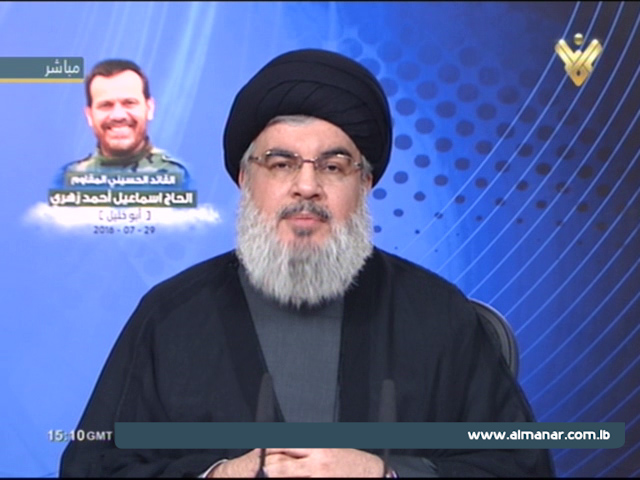 "Saudi Arabia and its rulers have a chance to contain the situation. Yemenis, Bahrainis, Syrians, Iranians and Iraqis are ready for negotiations. Don't be arrogant and don't be blinded by hatred, you should rather be part of a solution to the regional crises," Sayyed Nasrallah said in a televised speech on Friday afternoon during a memorial ceremony of Hezbollah commander Ismail Zahri who died last week after struggling with a long-term illness.

Sayyed Nasrallah warned Saudis that if they insisted on persistence of conflicts, they will be defeated, "the Al Saud scheme shall be smashed and disgraced, all field data points to such results."

Sayyed Nasrallah pointed to the recent visits by Saudi generals and figures to the Zionist entity, saying they were part of an official recognition of Israel. "The Arab world is in its worst conditions ever. The worst development in recent weeks is the Saudi contacts with the Israelis, which has become public."

"When Saudi generals and figures, of course with the consent of the Saudi regime which controls everything its nationals do, pay visits to 'Israel', they are thus paving the ground for an open relation with the Zionist enemy. When Saudi presents itself as the state of Islam, Quran and the land of prophecy and recognizes 'Israel', then we are before a religious and cultural catastrophe. Eventually, this would be a pretext for other Arab countries to follow the path of Saudi Arabia for being a "role model" for the Arab world," Hezbollah S.G. said.
Retired Saudi General Anwar Eshki headed a delegation of Saudi academics and business people in a visit to the Zionist entity last week where he met Israeli officials, among which were Zionist Foreign Ministry Director-General Dore Gold and Coordinator of Government Activities in the Territories Maj.-Gen. Yoav Mordechai and a group of Knesset members, the daily Ha'aretz reported.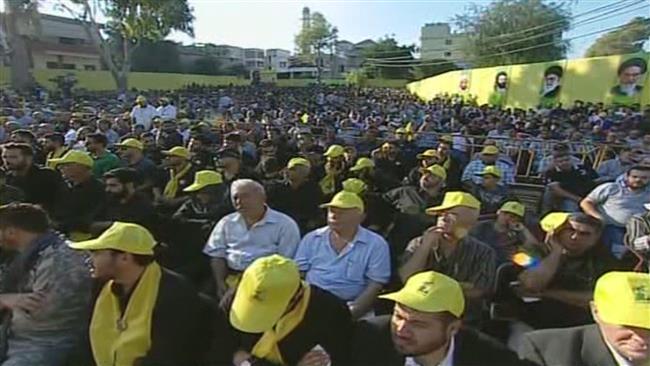 In recent years, Saudi Prince Turki bin Faisal Al Saud had met openly with former senior Israeli Occupation Forces officials Yaakov Amidror and Amos Yadlin, both retired generals. The Saudi general and prince have granted generous interviews to Israeli media outlets, maintain ties with Israeli 'peace organizations' and sit alongside Israeli delegates at international conferences around the world.
"When a known prince meets Israeli officials and an intelligence official follows suit and visits the occupied land, this cannot happen without the Saudi kingdom's approval," Sayyed Nasrallah said, adding that after such contacts were made secretly, now they are becoming open and public.

"Such action by any Arab figure whether he was Jordanian, Egyptian, Syrian... should be condemned and denounced by Arabs," he added, calling upon people to reject these acts that only serve the enemies and threaten the region.
Sayyed Nasrallah criticized Saudi Arabia for opening relations with 'Israel' without any preconditions on one hand while imposing a surrendering conditions on Bahrainis, Yemenis, Iranians.., who are extending their hands for talks.

Sayyed Nasrallah ridiculed the Saudi foreign minister's stance days ago, saying he "has appointed himself as a custodian and governor of the Syrian people and the proposal he made to Russia by offering it a share in the region is farce and funny."

"We tell the Saudis: You can't win this war or impose your conditions. You are in no position to divide shares and set conditions and neither are your kings and rulers," he said. "What happened in Aleppo is highly important and is relevant to regional equations. Imperial dreams have fallen in Aleppo in front of the steadfastness of the resistance and the people. Does [Adel] Al-Jubeir think he can fool the world at the time when Takfiris who are holding your ideology are slaughtering a priest in the church, attacking Niece, killing innocents in Karradah, and murdering a Palestinian child in Syria?! This is the Wahhabi Takfiri ideology, your scheme has no future."
His eminence expressed regret that the Palestinian cause has become forgotten and undermined by some Arab regimes. However, he praised the Palestinian martyr, Mohammad Al-Fakih from Surif town, northwest of Al-Khalil, as a "shining side" of the Arab world and an "icon of resistance and rejection of Israeli occupation and hegemony."

Days ago, Sayyed Nasrallah recalled, Bahrainis staged huge sit-ins and protests against the trial of Sheikh Issa Al-Qassim "despite the harsh weather conditions, thus, preventing the regime from committing a folly against the Bahraini figure." He said the regime in Bahrain "is now falsely accusing Sheikh Qassim, who is well known for his integrity, of money laundering," which reflects their bankruptcy.
"His image is cleaner and clearer than those with dark faces and unjust minds who are seeking to oppress him," the S.G. added.
Turning to Lebanon, Sayyed Nasrallah called upon the Lebanese government to assume its responsibility in preserving sovereignty on its land and especially in Ghajar which has been breached by the Zionist entity who are seeking to claim the town's ownership.

Sayyed Nasrallah also held the government responsible for all critical issues plaguing the country (water, electricity, corruption, etc..), and warned it not to put blame on the presidential void.
His eminence praised commander Ismail Zahri as the title of a long-term of Jihad and sacrifice among the resistance ranks, enumerating his sacrifices and traits. "Zahri joined the resistance ranks since its very beginning and was the first to specialize in the artillery technology, he had a deep love to knowledge and science, he was passionate, honest and loyal... And with such leaders we shall triumph."