A senior German diplomat urged Turkey to respect international law as it deals with those responsible for the attempted putsch.
A senior German diplomat, making the most high-profile visit to Ankara by a Berlin official since the failed July 15 coup, urged Turkey to respect international law as it deals with those responsible for the attempted putsch.
"If this attempt had succeeded, it would have been a disaster for Turkey, Germany and the region," Secretary of State for Foreign Affairs Markus Ederer said after seeing the damage to parliament from bombs dropped by F-16 jets.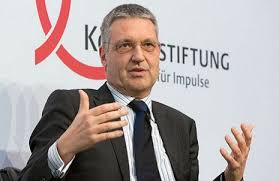 He offered Berlin's support in punishing putschists but stressed actions should be "within the rule of law".
"It is essential that these criminal investigations are conducted in accordance with international norms -- European Union, Council of Europe and OSCE standards," Ederer told a press briefing at the parliament building in Ankara.
Tensions between Berlin and Ankara worsened last month after President Recep Tayyip Erdogan was blocked by a German court from delivering a speech from Turkey to a rally in Cologne.
Relations were already strained over the German parliament's decision in June to brand as genocide the World War I-era Armenian massacre by Ottoman forces.
During a huge rally on Sunday in Istanbul attended by more than a million people, Erdogan again attacked Berlin and warned "terrorists" would hit Germany.
"Germany did not allow the video call, where is the democracy? But they let those in Kandil (do it) via video," he said, referring to a PKK mountain stronghold.
"Whatever happens, tomorrow will not be as they await it. It will hit them like a boomerang. Let them feed those terrorists, they will hit them too."
Ankara has come under attack from its western allies who have expressed concern over the post-coup crackdown.
Over 60,000 people from the military, judiciary, civil service and education have been dismissed, detained or put under investigation for suspected links to US-based Islamic preacher Fethullah Gulen. Journalists have also been arrested.
Gulen is accused by Turkey of "ordering" the July 15 putsch. Ankara also describes his movement as a terrorist organization.
The cleric, in self-imposed exile since 1999, denies all claims and the movement insists it promotes moderate Islam and charity.
Germany is home to three million ethnic Turks, making up Turkey's largest diaspora.