Moallem conveyed President Bashar al-Assad's compliments and best wishes to the Iraqi people and leadership to have victory in the war against terrorism.
Upon an invitation from Iraqi Foreign Minister Ibrahim al-Jaafari, Deputy Prime Minister, Foreign and Expatriates Minister Walid al-Moallem visited Baghdad on Thursday where he met Iraqi President Fouad Masum, Prime Minister Haidar al-Abadi and Foreign Minister Ibrahim al-Jaafari.

During h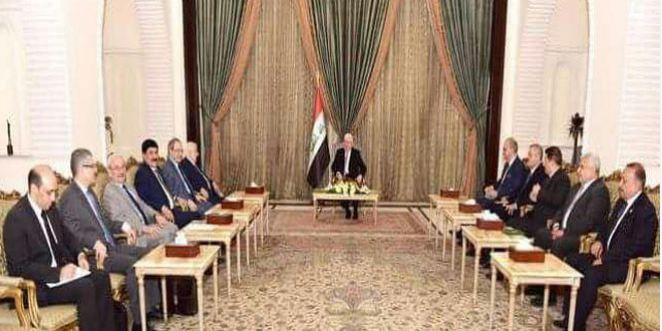 is meeting with the Iraqi President, al-Moallem conveyed President Bashar al-Assad's compliments and best wishes to the Iraqi people and leadership to have victory in the war against terrorism.

Al-Moallem briefed President Masum on the latest developments in Syria and the region, affirming the Syrian people's determination to continue struggle in the war against terrorism and in the face of conspiracy in which many countries participate like Turkey, Saudi Arabia, Qatar and many others.

He stressed that Syria and Iraq are in one trench where they face the same aggression and challenges.

The Iraqi President, for his part, said that Iraq and Syria have the same destiny, adding that efforts should be intensified to gain victory over the same enemy, calling for increasing cooperation and coordination between the two countries in the fight against terrorism and the danger posed by ISIL terrorist organization.

President Masum asked al-Moallem to convey his compliments and best wishes to President Bashar al-Assad and to the Syrian people.

Al-Moallem discussed in another meeting with Iraqi prime Minister al-Abadi bilateral relations between the two brotherly countries as viewpoints were identical on the need for boosting them in all domains, including coordination of efforts to combat terrorism and enhance trade exchange between both states.

"ISIL is not a combatant organization, but it is a project in which many sides are recruiting, supporting and financing … some sides recognized the danger of ISIL expansion while other sides continue their support to it," the Iraqi Premier said, appreciating the victories achieved by the Syrian army in its war against terrorism.

Likewise, during his meeting with Iraqi counterpart, al-Moallem clarified that Syria, thanks to its people and army "put its foot on the victory road and moved into attack to achieve victory against terrorism of ISIL, al-Nusra and other terrorist organizations."

"The conspiracy didn't end yet, it targets Iraq and Syria as well as their glorious role… this requires the Iraqi-Syrian coordination to be strategic to draw a better future for the two brotherly peoples," al-Moallem said.

Al-Jaafari, for his part, hailed the historic and distinguished relations between Syria and Iraq, affirming that the Iraqi people will not forget what Syria has offered when it helped the Iraqi people in their crises throughout history.

"The world countries have begun to recognize the reality of the Syrian stance and what is going on in the country," Iraqi Foreign Minister said, adding that the Syrian people pay the tax of terrorism, hoping the world would do justice for Syria which fights terrorism on behalf of it.

He hoped Syria would overcome the crisis and enjoy stability and security.

Moallem: Iraqi's Victory over Terrorism in Fall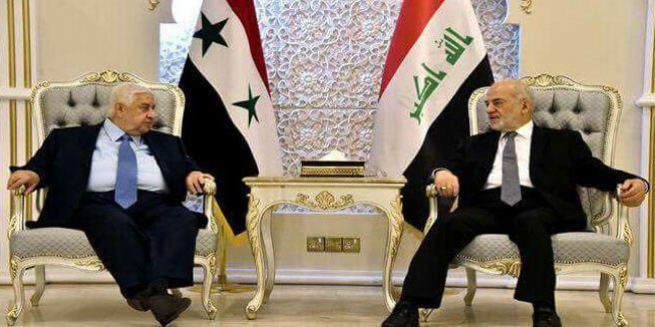 ujah Concerns All Syrians

Syria Deputy Prime Minister, Foreign and Expatriates Minister Walid al- Moallem affirmed on Thursday that the victory of the Iraqi people over terrorism in al-Fallujah and their aspiration for the victory in al-Mosul is a victory for the Syrian people.

Al-Moallem, at a press statement following his discussions with his Iraqi counterpart Ibrahim al-Jaafari in Baghdad, said "We thank al-Jaafari for his invitation to visit the brotherly Iraq which stands by Syria in the same trench to defend our people against Takfiri terrorism."

He pointed out that he discussed with al-Jaafari the situation in Syria and the continued struggle of the Syrian people against terrorism, adding "we had a common conclusion that we have a great hope in victory".

For his part, al-Jaafari welcomed minister al-Moallem, pointing out that terrorism poses threat to the entire world, this terrorism against which Syria and Iraq are fighting on behalf of the other states, hoping Syria enjoy stability and eliminate terrorism and terrorists.

"We are looking forward to establish stronger relations between Syria and other Arab countries, and I think that the best response to the terrorist challenge is the integrity of these countries and their concern in the construction, economy, diplomacy and politics," al-Jaafari said.

Speaking to Syrian TV, al-Moallem said that there is a determination by the leaderships in the two countries to deepen cooperation in various fields and this is a natural thing.

In a similar statement, al-Jaafari said that there is nothing prevents cooperation between Syria and Iraq in the interests of the two countries.

On the violation of the Iraqi sovereignty by Turkish troops, al-Jaafari said that the violation is rejected and Iraq has already expressed its rejection in more than one occasion and conveyed this matter to the United Nations' Security Council and the Arab League.

Al-Moallem started a visit to Baghdad which came upon an invitation by al-Jaafari to discuss a number of issues of mutual interest.