The head of National Struggle front, declares that he is staying within majority ranks however, he says he has his "own views and opinions".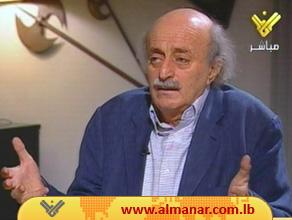 The head of National Struggle front, MP Walid Jumblatt stresses that his relation with Hezbollah is strategic and it has been good assuring it will remain like this. He points out that his meeting with the party's Secretary Genaral Sayyed Hasan Nasrallah "was frank and sincere". The MP declares that he is staying within majority ranks; however, he says he has his "own views and opinions".

In a special interview with him during "Hadith Assa'a" program broadcast at al-Manar Channel on Friday night, MP Jumblatt stressed on the importance of adopting the equation of "People-Army-Resistance", hoping that "someday we may re-discuss the defense strategy through dialogue sessions".

As he pointed out that the resistance weapons has been to defend Lebanon from the continuous Israeli violations, he asserted the importance of regaining Sheba'a Farms and Kfarshouba Hills.
On the latest stances of Prime Minister Najib Miqati, Jumbaltt said the overall performance of Miqati was "excellent", and he had no notes about, noting that the "PM has been working hard to avoid Lebanon the negative repercussions", referring to Miqati declarations concerning anti-Syria resolution at the United Nations and the funding of Special Tribunal for Lebanon (STL).

The MP also said that his front would vote in favor of funding the STL.
"I don't know if the STL funding will pass by the cabinet, however I hope the Lebanese parties will reach a compromise concerning this issue".

On the Syrian crisis, Jumblatt said that he didn't know if the Syrian regime has passed the "dangerous stage", stressing that the "solution can be reached by politics and not by security".

As he talked about the Syrian conflict, the MP set some points considering them as an introduction to solve the crisis.
"The gateway of the solution is through dialogue. I was observing the first and the last conference for dialogue; they should go back to this spirit in the sake of Syria".

He urged the "halt of shooting at protesters, condemning the attacks on army, withdrawal of army, releasing the detainees, condemning the foreign interference and punishing those who were responsible for crimes against the Syrian people".