AI's depended in its conclusions on collecting Al Jazeera and Al Arabia type media accounts including the dubious reports by CNN's Arwa Damon and sundry anonymous You-tube clips
En route to Niger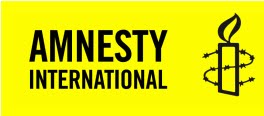 This observer counts himself among Amnesty International's more than 3 million supporters and members in more than 150 countries and territories who also strongly endorse AI's campaigns to end grave abuses of human rights. I share AI's vision for every person to enjoy all the rights enshrined in the Universal Declaration of Human Rights and other international human rights standards.

In Beirut, I attend their events and was honored to play a small part in assisting with last spring's AI research on the subject of disappeared Palestinians and Lebanese which resulted in AI's excellent April, 2011 publication: Never Forgotten: Lebanon's Missing People. This reportdocuments one of the bitter legacies of the 1975-1990 civil war which is the thousands of people whose fates remain unknown.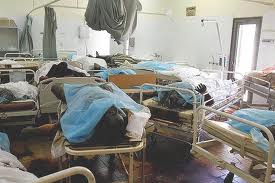 I have crossed paths with AI researchers in the Middle East and recently during three months in Libya I followed their work which included the human rights problems of black Libyans, particularly from the Tawagha region but also in eastern and western Libya where blacks were often taken from hospitals never to be seen again. AI rightly condemned the number of massacres and extra-judicial killings perpetrated by both pro-Gadhafi and NTC partisans, many of which, like the 53 recently executed Gadhafi supporters found at the Mahari Hotel in Sirte involved the kidnapping and murder of patients in hospitals.These grisly scenes have shocked the world's conscience and all people of goodwill condemn them. They weaken substantially the moral authority of the group currently claiming power in Libya.
Despite its generally exemplary work, Amnesty International, like the rest of us, is not infallible.This is evident in its 10/25/11 released 39 page report: Health Crisis: Syrian Government Targets the Wounded and Health Workers.
AI's conclusion from its "research" in Syria, which consisted significantly of collecting Al Jazeera and Al Arabia type media accounts including the dubious reports on the same subject by CNN's Arwa Damon and sundry anonymous U-tube clips is, interestingly, virtually identical to what it concluded from its investigation in Libya on the same subject.
However, there is a great distinction between Syria and Libya, their medical professions and their current challenges.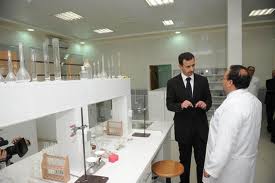 AI claims this week, without convincing material, probative or relevant evidence that Syrian authorities, including Hospital administrators and staff, have since March 2011 turned Syrian hospital into instruments of repression in order to crush protests and demonstrations. AI's j report claims that Syrians wounded in protests or incidents related to the current unrest "have been physically assaulted in state-run hospitals by medical staff, and in some cases denied medical care, while others taken to hospital have been detained or have simply disappeared." AI offers as its proof of these claims the weakest and seemingly most competition-driven support of any Amnesty International report I have read. It reeks of yet another orientalist double standard and ignores similar claims from citizens in western countries of similar actions by their governments.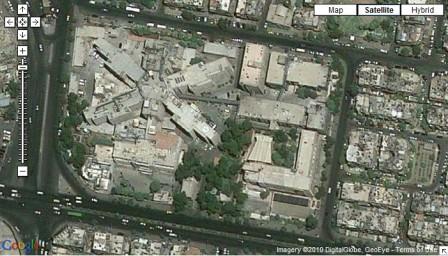 This observer recently had the opportunity to visit with administrators and medical staff at Syria's largest state-run Ministry of Health hospital (Syria also has Higher Education Hospitals for university students and Ministry ofDefense Hospitals, the latter being roughly equivalent to American Veterans Hospitals forthe military,)which is Damascus General Hospital, established in 1952. Damascus Hospital sees 800 patients daily and is one of 90 hospitals belonging to the Ministry of Hearth that together serve all of Syria with 14, 571 beds. Medical care in Syria is virtually free. .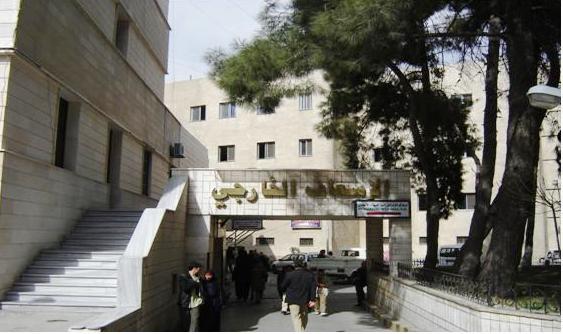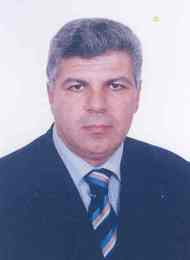 Among those I had the opportunity to meet with recently and to discuss issues raised by Amnesty International were Dr. Mahmoud Naji (damahosp@mail.sy) who is the Director of the Emergency Department and Intensive Care Unit at Damascus Hospital and Dr. Adib Mahmoud, (damahosp@mail.sy), Damascus Hospital administrator.
Both the Syria Medical Emergency Association, of which Dr.Naji is a representative and the Syrian Medical Association, have large memberships with the reputation of being fiercely independent of and resistant to outside influences. At the same time they have achieved individual treatment and medical ethics standards that help make Syria's medical services the highest rated in the Middle East.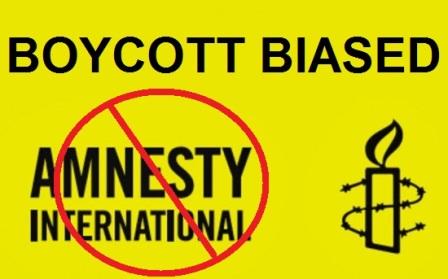 Amnesty qualifies its findings with complaints that it did not have access to Syrian hospital staff, and that it wanted to protect its"witnesses" by withholding some specifics such as time, place, and circumstances of alleged wrongdoing by members the Syrian medical community, as well as the unwillingness of alleged victims of abuse to come forward. For their part, Syrian medical staff complained to this observer that AI's Report is deeply flawed and that in fact Syrian hospitals welcome foreign visitors for tours and dialogue with all questions honestly addressed.Syria's medical profession has justifiably taken umbrage at what it considers, as one Physician described, "Amnesty International's "gratuitous defamation of Syria's medical community."
According to Amnesty's report, but without providing convincing collaborative evidence, wounded patients in at least four government-run hospitals had been subjected to torture and other ill-treatment, both by medical workers and security personnel.
AI's charges that Syrian medical staff humiliate or refuse to treat patients brought laughter from some care givers at Damascus Hospital, as they explained the strict procedure they abide by from the moment a patient arrives at the emergency entrance. "We treat each patient to the best of our ability and we are strictly forbidden from questioning them about the circumstances of their injury," Dr. Mahmoud Naji explained.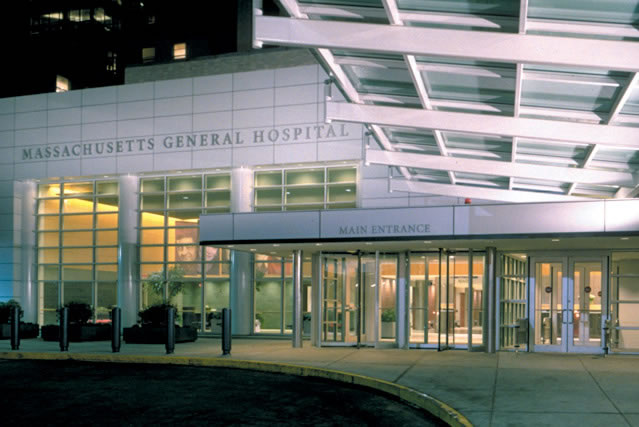 This observer was invited to literally follow arriving emergency room patients as they were admitted and treated and until they were assigned a bed in the appropriate ward.
A nurse, who was filling out a patient's medical forms noted, "In certain cases if there was an auto accident, for example, and an injured person arrives while the accident is being investigated then we could contact authorities.""However, our patient privacy rules are very strict in Syria and we can only ask medical and certainly not political questions,"according to one ER intern as she took the blood pressure of an arriving young woman who complained of stomach cramps.
A Physician who had trained at Massachusetts General Hospital in Boston explained, " I am sure there must be some abuse and especially in the middle of an area where there is fighting, but I have personally never heard ofany physician or medical personnel doing what some Western media have alleged without submitting proof.Do police officers sometimes come to the hospital? Yes but it's like what you would see, for example, in America on a week-end night at the emergency room in maybe the 200 largest cities., isn't it? When I was training in Boston and with all that goes on in the early hours of the morning in big cities, one sees more police cars outside emergency rooms than ambulances. While it's not like that here, the police presumably sometimes have reason to suspect that a crime may have been committed and the arriving injured person might be the victim or the perpetrator and an officer has the duty to complete a police report. I believe it's similar anywhere."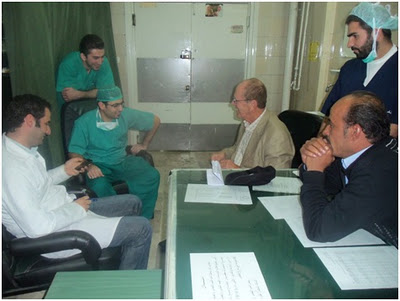 "Syria medical staffs firmly reject what they consider AI's shallow "investigation" that did not but could have included visiting any of Syria's 90 public hospitals. The staff pictured above emphasized that it's not too late for AI to do its research inside Syria and not be limited to U-tube or Al Jazeera quality "evidence."
Another Dr. commented, "And yes, our medical profession has been criticized along with our government because it is claimed by some that some injured people may not want to come to our hospital thinking we might report them to the police. We will not. Does that not also happen in every society?Someone is injured while doing something wrong or criminal and they are afraid of being arrested so they seek alternative treatment from friends or private clinics. Yes, that sometimes happens in our country. Every citizen can choose where they seek treatment."
According to Syria's Ministry of Health, it has not received any complaint to date, either from the patients nor from their relatives about any maltreatment or encroachment, In it's just released report: |"Health Crisis: The Syrian Government Targets the Wounded and Health Workers," Amnesty International falls far below an objective standard and fails to shoulder its burden of proof for the charges it levels at Syria's medical community.
AI also fails to meet the standard of investigative work that we who support and endorse its existence and work expect.

Franklin Lamb is doing research in Libya. He is reachable c\o fplamb@gmail.com He is the author of The Price We Pay: A Quarter-Century of Israel's Use of American Weapons Against Civilians in Lebanon.

Shatila Palestinian Refugee Camp
Beirut Mobile: +961-70-497-804
Office: +961-01-352-127