Israeli soldiers shouted through speakers: O Beirut people do not shoot on us we're withdrawing
Mohammad Alloush's report
Translated by Batoul Wehbe
In the age of two, he was forced out of his village "Al-Khalisa", in the north of Palestine, carried on his father's arms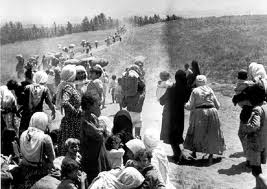 after the Zionist aggressive killing machine occupied Palestine in 1948 and expelled its inhabitants.
His childhood was close to his home country where he had been smelling its soil and monitoring it from faraway with each sun rise and set… He resided in Nabatiyeh.
Abu Ali Hassan, 63, was in charge of the Popular Front's right of return file and is still a refugee. We met him on the shore of Beirut and talked with him about Palestine, the memories and longing to return.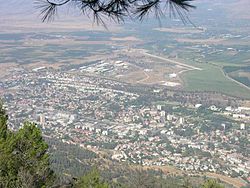 We felt we'd return to Palestine the next day
First of all, when we asked about his childhood he smiled and said: "I felt that my village Al-Khalisa (which is now called Kiryat Shmona) and I are one. It is the land that was a reference and link to life to me. In the first year, we entered Kfar Rumman School. We used to come from Haboush to Kfar Rumman back anf forth on foot. A year later, we moved to Nabatiyeh where we entered a school in Al-Mislikh neighborhood which was built by UNRWA, and then we moved to Nabatiyeh camp in the mid-fifties and studied there in the camp's school."
Staring at the sea, he said in a sigh, "We dreamt of returning ... We felt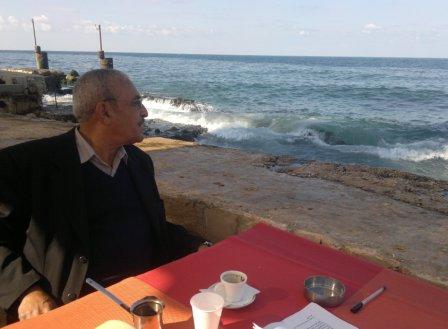 we'd return the next day. By the way, we used to sing a short popular song "the morning song" at school, written by Abu Maher. It says: 'Our Palestine we won't forget you... Our Palestine we call upon Allah and history to witness that we'll sacrifice ourselves to gain you back... Long live Palestine, and we'll live to the awaited avenge."
Talking about Nabatiyeh camp, Abu Ali said "the distinguishing feature of the camp was its closeness to the Palestinian occupied territories. We used to see Palestine and Al-Mtelleh settlement every day. After the eruption of Palestinian Intifada, the camp became the headquarter of the revolution's military command. In it we saw Yasser Arafat and George Habash for the first time. It included different Arab nationalities. When it was bombed in an airstrike in 1974, the military command moved to Nabatiyeh town. I was, then, in Beirut residing in Tal Za'atar camp. I was continuing my studies in Beirut Arab University, faculty of History focusing mainly on the Arab-Israeli conflict issue. In the late nineties I completed my masters in the Lebanese University."
O Beirut people do not shoot on us we're withdrawing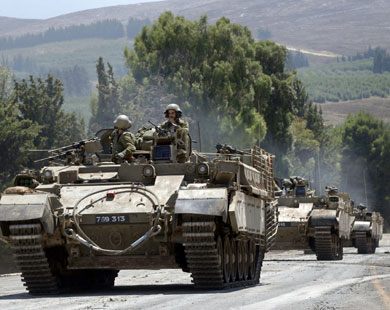 When asked about the stories he heard from the parents, he answered: "My father often spoke of communication between people in the villages, especially in Al-Hawli region (which constitutes 26 villages), as well as the close and brotherly ties with the nearby Lebanese villages."
After Nabatiyeh camp was destroyed, his family moved to Beirut in 1979 and resided in Al-Sabil region near Al-Makassed Hospital.
On the Israeli invasion of Beirut in 1982, Abu Ali said he felt happy when he saw that strong resistance to the occupation in Beirut, "it was influential and effective, what prompted the Zionist army withdrawal under the resistance's iron fist." He recalls an incident he faced one day while he was passing through Tallet Al-Khayat region, he saw Israeli soldiers on a tank shouting through a microphone "O people of Beirut do not shoot on us, we are withdrawing."
Any party that gives up right of return, does not represent me
Hope in Abu Ali's eyes shines every day, the hope to return to Palestine. He find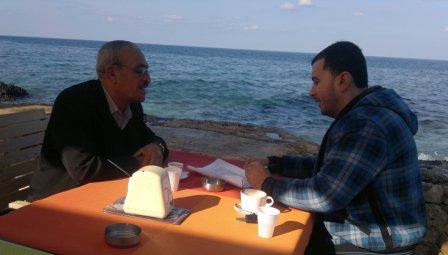 s that any party that gives up right of return represents neither him nor the Palestinian people or the Arab welfare. According to him, there is no problem with religions in Palestine, the Zionist scheme has created this problem.
As for the conditions of Palestinians in Lebanese refugee camps, Abu Ali insisted on the need to give Palestinian civil and social rights, especially the right to own and to work. "Is it reasonable that the U.S. citizen can buy a building in Lebanon while the Palestinian can't own the room he sleeps in?" he wondered.
Abu Ali stressed the idea that a Palestinian remains a Palestinian everywhere. "For example Professor Edward Said, who had come from the United States to Fatima Gate, in Lebanon's south, to throw stones at the Zionists is the biggest proof of that."
Day of return was a shocking response to the Zionist movement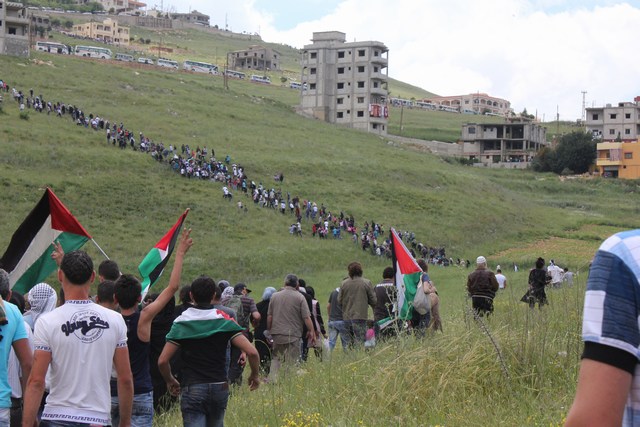 Talking about the day of return last 15 May, Abu Ali considered that the response to the Zionist movement slogan "Kill the elders, the youths forget" was stunning. "In Maroun al-Ras, all ages from the two years old to 80 years participated and most people in the camps wanted to go. The estimated number of people was 20,000; however, 50000 were in presence. Knowing that if the rest were able to go they would... Most of the martyrs were under the age of twenty."
At the end of our meeting with him, he said: "I hope the Arab world from the Atlantic Ocean to the Gulf would be one united country. Palestine is not for the Palestinians alone but is for the whole Arab nation."