Hamas is the jihadi movement of the Brotherhood with a Palestinian face
Head of Hamas in Gaza Ismail Haniyeh discussed Mideast politics with the Leader of Egypt's Muslim Brotherhood, which is emerging as the biggest winner in the first parliamentary elections after Mubarak's ouster.
Haniyeh is on a first trip to Egypt outside the blockaded strip since Hamas came to power in 2007.
"The Brotherhood centre has always embraced issues of liberation, foremost the Palestinian issue," Mohammed Badie, brotherhood leader, said on Monday after meeting the Hamas leader at the group's newly inaugurated headquarters in a Cairo suburb, according to Egypt's state news agency MENA.
He added that Hamas has served as a role model to the Brotherhood in its reconciliation with the Fatah movement and in closing the recent prisoner swap deal with the Israeli enemy.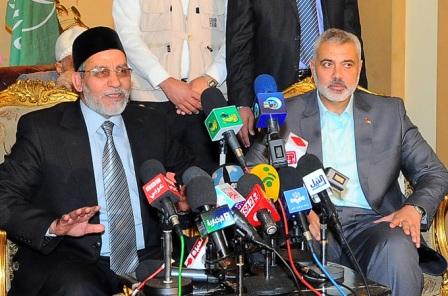 Hamas presence with brotherhood threatens Israel
Haniyeh described Hamas as the "jihadi movement of the Brotherhood with a Palestinian face." He said his visit to the Brotherhood center would confuse and frighten 'Israel'.
Haniyeh said during his visit to the Arab League that reconciliation with Fatah is a "strategic" matter that should not be hindered by American and Israeli objections. Israel has said the closer Fatah gets to Hamas, the further it moves from a so-called failed "peace deal".