The Kurdistan Workers' Party (PKK) called the Kurds in Turkey on Friday to uprise following a deadly raid that killed 35 people near the Iraq border.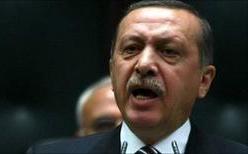 Turkish Prime Minister Recep Tayyip Erdogan expressed regret Friday for the "unfortunate and distressing" incident, and said that "it had been determined they were smugglers and not separatist rebels".
"Images transmitted by drones showed a group of 40 people in the area, it was impossible to say who they were," he said, adding that "afterwards it was determined they were smugglers transporting cigarettes and fuel on mules."
Erdogan stated that "no state deliberately bombs its own people," and pointed out that "the separatist rebels of the Kurdistan Workers Party (PKK) had used the same route and methods to bring weapons into Turkey to mount attacks."
The Turkish Prime Minister further called for critics to await the result of an official inquiry.
For their parts, the Kurdistan Workers' Party (PKK) called the Kurds in Turkey earlier Friday to uprise following the deadly raid that killed 35 people near the Iraq border.
"We urge the people of Kurdistan... to react after this massacre and seek a settling of accounts through uprisings," Bahoz Erdal from the armed wing of the PKK, said in a statement.
35 villagers were killed on Thursday as the Turkish air forces staged a deadly airstrike near the Iraqi border.
For its part, Turkish ruling party said the strike could have been a "blunder" that killed civilians and not Kurdish separatists.
"According to initial reports, these people were smugglers and not terrorists," said Huseyin Celik, vice-president of the governing Justice and Development Party (AKP).
"If it turns out to have been a mistake, a blunder, rest assured that this will not be covered up," he said, adding that it could have been an "operational accident" by the military.
Turkey's military command said it had launched an air raid on PKK militants after a spy drone spotted a group moving toward its sensitive southeastern border under cover of darkness late Wednesday.
"The area where this happened is called Sinat-Haftanin, in northern Iraq, where there is no civilian population, and where the terrorist organisation has bases," a military statement said, referring to the PKK.
But the country's main pro-Kurdish Peace and Democracy Party (BDP) said the planes had bombed villagers from Kurdish majority southeastern Turkey who were smuggling sugar and fuel across the border on mules and donkeys.
"It's clearly a massacre of civilians, of whom the oldest is 20," BDP leader Selahattin Demirtas said in a statement that called on Turkey's Kurdish population to respond "by democratic means".