The first AL observers' report recommends mission continue, move freely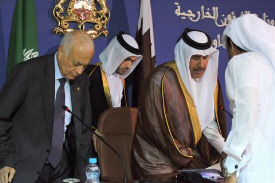 Arab League foreign ministers gathered Sunday in Cairo to discuss and assess their Syria mission amid a wide criticism for their performance.
The first report by AL observers in Syria recommended the controversial mission continue and claimed monitors were subjected to "harassment" by the government and the opposition, an Arab League source said. "It called on the opposition and the government to let the mission move freely," the source told reporters.

The Arab diplomat was speaking as the head of the observer mission, General Mohammed Ahmed Mustafa al-Dabi, was briefing Arab ministers in Cairo on the results of the monitors' visit.
The Arab League ruled out considering a withdrawal of observers. "The option of suspending the monitors' mission is not on the table and the mission will continue as more Arab nations are sending experts to join the mission," the League said.
The head of the League will recommend beefing up the mission, which currently has 165 observers, said Ali Erfan, a senior adviser to the Arab League chief. Arab League officials have consulted with the United Nations about the situation in Syria, he said.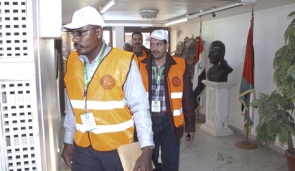 Dabi, a Sudanese former military intelligence chief, said it was too early to judge the mission. "This is the first time that the Arab League has carried out such a mission," he told Britain's Observer in an interview. "But it has only just started, so I have not had enough time to form a view."

The Arab League has admitted to "mistakes" but defended the mission, saying it had secured the release of prisoners and the withdrawal of tanks from cities. It said rather than pull out, it planned to send more observers. "No plan to withdraw the observers is on the agenda of the Arab ministerial committee meeting on Syria," the bloc's deputy secretary general, Adnan Issa, told AFP on Saturday.