Russia said Saturday that a UN Security Council resolution on Syria did not suit Moscow at all and warned of a "scandal" if that draft was brought to a vote
Russia said Saturday that the Western-backed text of a UN Security Council resolution on Syria d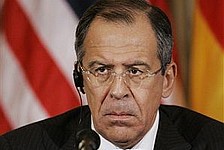 id not suit Moscow at all and warned of a "scandal" if that draft was brought to a vote, AFP cited the Russian television.

"If they (the West) want yet another scandal on the Security Council for themselves then we cannot stop them" putting the draft to a vote, Foreign Minister Sergei Lavrov said. "The draft does not suit us at all and I hope that it is not put to a vote," he added.
The UN Security Council will meet later Saturday to vote on the resolution condemning the so-called "violence" in Syria.

Lavrov gave the interview to Russian state television at a Moscow airport early Saturday before heading to the Munich Security Conference where he plans to meet US Secretary of State Hillary Clinton.

He said that the changes Russia wanted to make to the resolution were "well known" and that he had already sent them to Clinton. "There can be no doubt about the sense and the objectivity of these amendments. I hope that a prejudiced approach does not prevail over common sense," he added.