Hezbollah Secretary General of Hezbollah Sayyed Hassan Nasrallah is to deliver a speech Friday evening on the occasion of the conclusion of Waed (promise) project to rebuild Beirut's southern suburbs (Dahiyeh)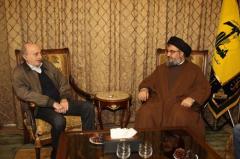 A consultative meeting was held on Thursday between representatives of Hezbollah and Jumblatt's Progressive Socialist party which included a dinner.
The meeting, which was held at the house of Minister Hussein Hajj Hassan, included Minister Mohammed Fneish, member of the Loyalty to the Resistance bloc MP Hassan Fadlallah and head of association and coordination department in Hezbollah Hajj Wafiq Safa. As for the PSP representatives, they included Ministers Ghazi Aridi, Wael Abou Faour, and MP Akram Shehayyeb.
Both parties tackled the controversial files starting with the election law and ending with the Syrian crisis. A Hezbollah source told Al-Manar Website that this was the third meeting between both parties and it came in the context of routine communications between the two sides.
The source acknowledged the "difference" in the approach on the Syrian file, but spoke of a "consensus" on the need for Lebanon to be protected from the repercussions of the Syrian crisis. The "consensus", according to the source, also included the need to agree on an electoral law that provides the best means of national representation, as well as the need for the government's survival and activation.
This also comes after terrorist blasts hit populated areas in Syria on Thursday killing at least 55 people and wounding about 370 others, all civilians.