A special tribute to the mothers of martyrs and detainees, and the mothers who gave their lives for the sake of their homeland
Interviewed and written by: Batoul Wehbe

Blessed is your face
Blessed is your name
Blessed is your heart and your hand that makes glories.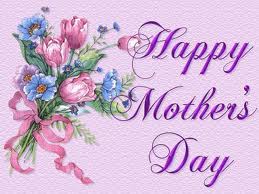 You've always been the embodiment of affection and sacrifice. You are the most beautiful word ever. Happy Mother's Day.

A special tribute to the mothers of martyrs and detainees, and the mothers who gave their lives for the sake of their children, husband or homeland.

Happy Mother's Day for all revolutionary mothers in Tunisia, Egypt, Bahrain, Libya, Yemen, Palestine, Lebanon, and all other countries seeking freedom and reforms.

When a mother also plays the role of a father
300 Kilometers, 18 years and three children were enough to make Suhaila an extraordinary mother and wife. With the absence of her husband, who was a political prisoner from 1991 till

"Extraordinary
Mother & Wife"

2008 for being a member of the Tunisian Nahda Movement - an Islamic movement banned by Zein Al Abedein Ben Ali's regime - she raised three children and walked 300 km, every week, towards her husband's prison.

In addition to being a mother of three, Suhaila had to fill the absence of the father. She had to work in a children's association in Sousa, where she lived, to educate and provide for her family.

Not only did this mother, who is probably one amongst millions others in our Arab and Muslim worlds, support her husband and what he stood for, but she was also adamant to raise her children as good Muslims.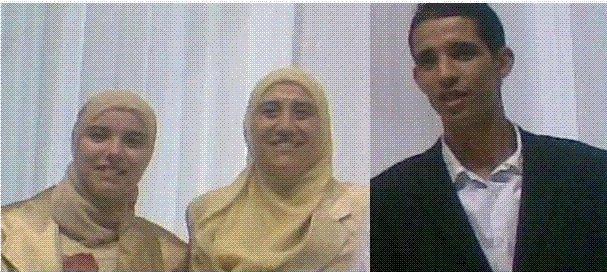 "I am a veiled woman adopting a cause, I taught my children not to be afraid of saying 'No' in the face of oppression. My husband's detention gave us momentum to continue his path despite all the pressure we have countered," Suhaila told Al-Manar English Website.
"My dearest mom" written in a greeting card was a simple yet precious gift from Maath (now 25), Maryam (23) and Sara (21) who were trying to make their mother happy at the most critical conditions.
Mothers make triumphs, real men
Suhaila's message to the mothers of martyrs and detainees on Mother's Day was: "One day you were the mother and the father, so keep up this struggle and don't be weak. Your role shouldn't stop with your sons or husbands' martyrdom or detention, but you should continue to raise small combatants to carry on this path and Inshallah (god willing) we'll be triumphant."
The Arab Revolutions' Spark
What young men and women achieved in Tunis and Egypt, and will achieve in Libya, Yemen, Bahrain, and elsewhere was historic and the sacrifices were large. The mothers of all the Arab martyrs had played their part in raising their children on sacrificing for the sake of justice and freedom.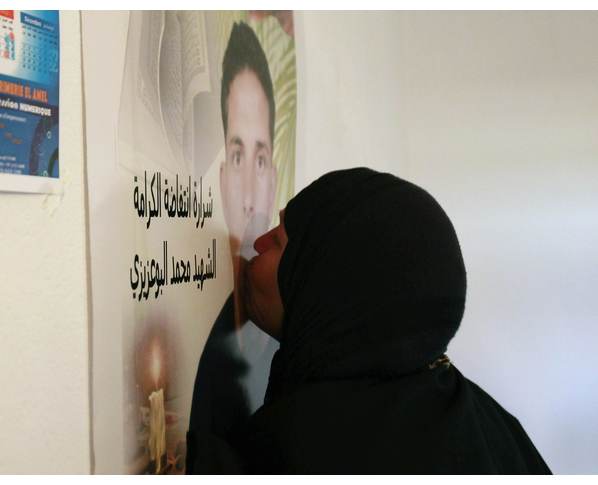 Mohamad El-Bouazizi, the young Tunisian man who torched himself in protest at unbearable oppression of Bin Ali's regime, had sparked the uprisings. Mohamad also had a mother. He used to care for her along with his four sisters. His father passed away when Mohamad was three.
"When he used to return home at night he wouldn't sleep before seeing me, and if I had been sleeping he would just come close to me and give me a kiss. He wouldn't leave home before asking me to bless him," Mohamad's mother, Manoubiyeh, tells Al-Manar during an interview in a village near Sidi Bouzeid.
That Friday, 17 December 2010, Manoubiyeh did not know that her son was saying his last goodbye; perhaps Mohamad didn't know it as well. That day, Mohamad drenched himself with petrol and set himself on fire in front of a local government building after he was banned of selling fruits and vegetables, slapped by a policewoman who cursed his late father.

Eighteen days later, Muhammad died. His death liberated Tunis and Egypt…Other Arab countries are following path by strength of the brave young men and women, raised by their mothers on self-esteem, courage, and readiness to sacrifice.