Millions of Bashar al-Assad supporters poured into the country's streets as the President has accepted the resignation of the government and is expected to deliver speech tonight

Millions of Syrian President Bashar al-Assad supporters poured into the country's streets in a show of support for their leader calling their protests "loyalty to the homeland".

Sources told Al-Manar TV that there are about two million protesters in Damascus, another two in Aleppo, a million in Hamah, a million in Homos and hundred of thousands in other cities.

All roads leading to Sabeh Bahrat ("Seven Seas") square in Damascus were cut off by police, as men, women and children raised Syrian flags and pictures of Assad and his father, late president Hafez al-Assad.

Syrian state TV reported on Tuesday that Al-Assad accepted the resignation of the Syrian government.

Protesters across the country were chanting slogans in support of the President, who pledged to make reforms in the country and is expected to deliver a speech tonight addressing the nation and especially Daraa people who suffered much lately.

President al-Assad on Monday received a phone call of support from the Custodian of the Two Holy Mosques, King Abdullah bin Abdul-Aziz expressing the Saudi Arabia's support to Syria in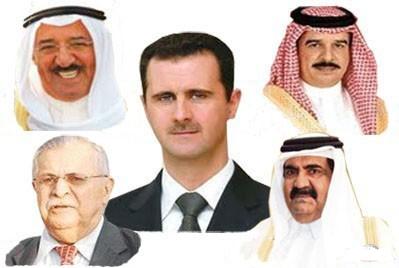 the face of conspiracy which targets its security and stability.
Al-Assad also received phone calls from King of Bahrain Hamad bin Issa al- Khalifa, the Emir of Kuwait Sheikh Sabah al-Ahmad al-Jaber al-Sabah, President Jalal al-Talabani of Iraq and Emir of Qatar Hamad bin Khalifa Al Thani. They expressed their countries' standing by Syria in the face of conspiracy to which it is exposed, targeting its security and stability. They underlined confidence in Syria's capability, as leadership and people, to foil that conspiracy.
Concerning the field developments, security forces continued chasing cars which official sources said were accused of undermining security in the areas of the country, especially in Latakia recording an unofficial toll of more than twenty arrests, but without details about the affiliations and reasons.
An official source on Monday denied claims on Reuters talking about a shooting on protests that took place in Daraa by the security forces.