As-Safir newspaper said Syrian President Bashar Al-Assad's visitors have cited a positive atmosphere in Damascus.
As-Safir
Under the headline "An Optimistic Panorama from the Syrian Regime's Perspective; Assad Tells Visitors: We Negotiate under Our Conditions, Battle in Our Favor," As-Safir newspaper said Syrian President Bashar Al-Assad's visitors have cited a positive atmosphere in Damascus.
Sami Kleib wrote on Monday that the opposition's seizure of Al-Riqqa did not affect the regime's morale, as President Bashar Al-Assad assured to his visitors: "The battle is long because we are fighting terrorism, which global powers failed to fight. However, things have improved on the military and political levels."
"The army has become more experienced of the militants' movements. Its new strategy requires that it sets the time and location of the battle rather than being dragged into one. This prevented the military forces from dispersing. It contributed in enclosing several ignited regions. It limited militants' movements in areas where they planned to wage attacks," he clarified.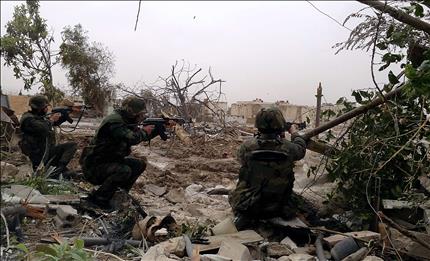 "The way of jamming communications changed, and surveillance equipments were advanced, so operations have become topical and painful to the militants. Essential changes occurred to intelligence and military structures. Coordination increased with allies that presented their experiences in the fields they excel in. Public committees, which are turning day after day into a substitute army, took part in protecting areas that the army withdrew from. Russia is ready to compensate any shortage in military equipment. Hezbollah and Iran did not withhold their experiences, which contributed in protecting religious areas, like Sayyeda Zainab, and some villages suffering attacks. Discussions in Damascus are about collaboration of experience not fighters."
On the military level, "essential changes are being made on the borders. Jordan is committed to security coordination. King Abdullah II considers that part of Syria's battle today is against Al-Qaeda and Al-Nusra Front, which is a Jordanian battle. Exchange of information took place lately, which contributed in killing a number of leaders and elements in Al-Qaeda and Al-Nusra. The last battle was the one Abu Ali Golani, leader of Al-Nusra Front in Homs, was killed in. Jordan is trying to play a double game, as it is fighting indirectly on the Syrian army's side against Al-Qaeda on one hand, and coordinating with Western and US intelligence to draw plans for all possible options regarding the Syrian crisis on the other hand."
Assad's visitors further quoted him as saying: "We are in a fierce battle against terrorism and in another battle against their supporters. We are aware that the war will not end soon, but we are determined to move forward until eliminating this strange phenomenon in our society."
On national dialogue, the Syrian president was quoted by his visitors as saying that "we have not closed the door of dialogue, and we will not close it. However, we should know who are we negotiating with? What is being proposed? Who is the part we are negotiating? We are witnessing daily the disassociation of the opposition. We can see that it has big differences. Let them agree, and then we see. For our part, we have begun dialogue with different parts in the opposition inside Syria, and this brought positive results. We have also proposed our project for reforms and are ready to discuss it, and we said that Syria's doors are open for everyone except terrorists whom we will fight until the end."
Assad also constantly said: "We negotiate with whoever wants negotiations, except for terrorists. However, it is unquestionable that we will not accept that conditions be imposed on us. We have said that since the beginning of the crisis, and it is apparent that we were right, and everyone is aware now that we were serious about everything we said."
On Russia's stance from the Syrian crisis, Assad assured that the alignment with Russia was in its best phase. "Everyone now supports the Russian role," he was quoted as saying, stressing that Moscow have not changed in its stances since the beginning of the crisis. Since the first day it reassured that the Gulf, Turkey, and some Western states should halt exporting weapons to fighters, and has called for political dialogue."
The writer added that Assad "does not trust the US role. He is aware that the US and Western schemes are not far from the initial and historic point: Countries of confrontation must be weakened and the US allied states, protective to Israel must be strengthened…"
He indicated that "Qatar is the real enemy for the Syrian leadership," while Iran and Hezbollah "are the loyal allies".