US Secretary of State John Kerry made a surprise trip to Iraq on Sunday to push for more help over the conflict in Syria.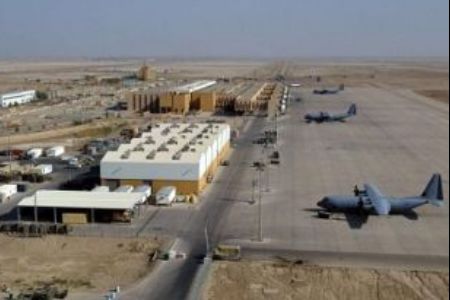 US Secretary of State John Kerry made a surprise trip to Iraq on Sunday to push for more help over the conflict in Syria amid claims of American declining influence a year after US troops left.
The visit, his first to Baghdad since taking office, will also focus on concerns in Washington that protests in the country's provinces might give militant groups including Al-Qaeda room to maneuver.
It comes just days after the 10th anniversary of the US-led invasion of Iraq that ousted Saddam Hussein and left the country grappling with deadly violence.
Kerry will meet Prime Minister Nuri al-Maliki and parliament speaker Osama al-Nujaifi and press Iraqi officials for greater cooperation on isolating the current Syrian government.
Washington has accused Baghdad in particular of turning a blind eye, claiming that Iran sends military equipment through Iraqi airspace, flights which Tehran insists transport only humanitarian supplies.
Kerry "will be very direct with Prime Minister Maliki about the importance of stopping the Iranian flights and the transit across the territory, or at minimum inspecting each of the flights," a State Department official said, speaking on condition of anonymity.
"He himself, as secretary of state, is convinced that they include weapons and fighters. ... This is dangerous for Iraq," the official added.
Baghdad has announced the inspections of two such flights, both in October 2012.
A US official this month called on Iraq to resume unannounced inspections of Iranian flights bound for Syria.
The top US diplomat will also push for Iraq's government to better engage with the country's minority, which has been protesting since December.
In particular, Kerry will push for Maliki to reconsider a decision to postpone upcoming provincial elections, scheduled for April 20, in two large provinces.
He will also call on Nujaifi, a senior leader in the Sunni-backed Iraqiya movement that is part of Maliki's unity cabinet but has boycotted government meetings, to push for ministers to return to the table.
"Secretary Kerry will be talking with Prime Minister Maliki about the importance of engaging with all elements of Iraqi society to work out how best to counter the very serious terrorist threat that is (of) deep concern to Iraqis," the official said.
Kerry will also "suggest to Nujaifi that he returns his colleagues to the cabinet" and "that it is far preferable for him to engage no matter what he thinks about Maliki."
The American mission to Iraq, however, remains the biggest in the world and US officials have consistently disputed arguments that Washington's influence is declining.
"It is not re-engagement, but it is to demonstrate our commitment to intensive engagement with Prime Minister Maliki and various players in Iraq," the State Department official said.
"He does not have to rely only on Iran for support," he stressed.