Syrian Foreign Ministry issued a statement on Wednesday criticizing UN-Arab League special envoy to Syria Lakhdar Brahimi, saying he lacks neutrality
Syrian Foreign Ministry issued a statement on Wednesday criticizing UN-Arab Leagu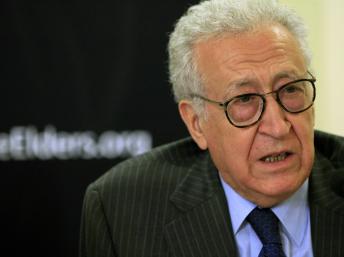 e special envoy to Syria Lakhdar Brahimi, saying he lacks neutrality.
The statement said Damascus would stop cooperating with Brahimi unless he severs his ties with the Arab League. "Brahimi's report (on April 19) to the United Nations Security Council was marked by (a tone of) interference in Syria's internal affairs and a lack of the neutrality required by his mission as international mediator," the statement said.
Brahimi said at a closed-door session of the Security Council that Syrian President Bashar al-Assad does not have the right to run for president in the upcoming election scheduled for next year.
"Syria has cooperated and will cooperate with Brahimi only as UN envoy, because the Arab League is complicit in the conspiracy against Syria," the statement read.
"If Brahimi wants his mission to succeed, we expect him to start working to stop the violence and terrorism along with the parties concerned, and to expose the roles played by France, Britain, Turkey, Qatar and Saudi Arabia, which finance and arm Al-Nusra Front's terrorists," it added.